Quality is what everyone demands. People of today prefer quality products over cheap products, for this reason; we, Nupur Scientific Instruments have emerged in the market. The main aim of our company is to offer a qualitative range of Cube Testing Machine, Compression Testing Machine, Abrasion Testing Machine, Soil Testing Equipment and more at prices that fit within everyone budget. With our testing products, we help other manufacturing businesses test their produced goods and achieve the highest level of product quality. Apart from various testing machines like Digital Compression Testing Machine, Spring Testing Machine, etc., we also offer our customers Brass Sieves of unparalleled quality. Guided by our mentor, Mr. Jitender Kumar Garg; we, as a manufacturer, are climbing ladders of success. Leveraging upon his skills and experience, we have enabled ourselves to maintain our reputed position in the market. Owing to our goodwill, we are attracting more customers to us and making our name big in the domain.

Our Team

We are backed by a team of skilled and knowledgeable people who aim to achieve the best in every task that is assigned to them. Every employee who works with us understands his/her responsibility of putting all the efforts and making our customers happy. And, it is because of this reason that we carry out our business operations in a smooth manner and never disappoint our customers for either product quality or delivery. Since our employees even go beyond their limitations for us, therefore, we also conduct training sessions for them to keep them up-to-date with the prevailing trends.

Why Us?

With our rich industrial experience and knowledge, we have gained the ability to produce Cube Testing Machine, Brass Sieves, Digital Compression Testing Machine, etc. of matchless quality. Some other reasons that make us a company to rely upon are as follows:
Skilled team members: Backed by a team of skilled and diligent employees, we are outshining ourselves in the market by fulfilling our customers demands on time.
Customized packaging: We also offer customized packaging option to our customers so that they receive their products in the best condition.
Competitive prices: The prices at which we offer our Spring Test Machine and Cube Testing Machine are easy to afford.
Quality Policy


Quality assured products: Product quality is the main concern of our company; therefore, we have also hired a team of quality controllers to look after our quality and production processes. Moreover, we have made a quality policy and to which we abide by all the means.

Client Satisfaction

For succeeding in the domain, it is essential to retain customers. And, in order to attract our customers towards us, we offer customized machines, flexible payment options and strictly adhere by our business ethics. By remaining true to ourselves and our nature of business, we ensure to remain true to our customers.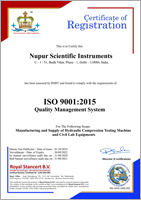 Read More